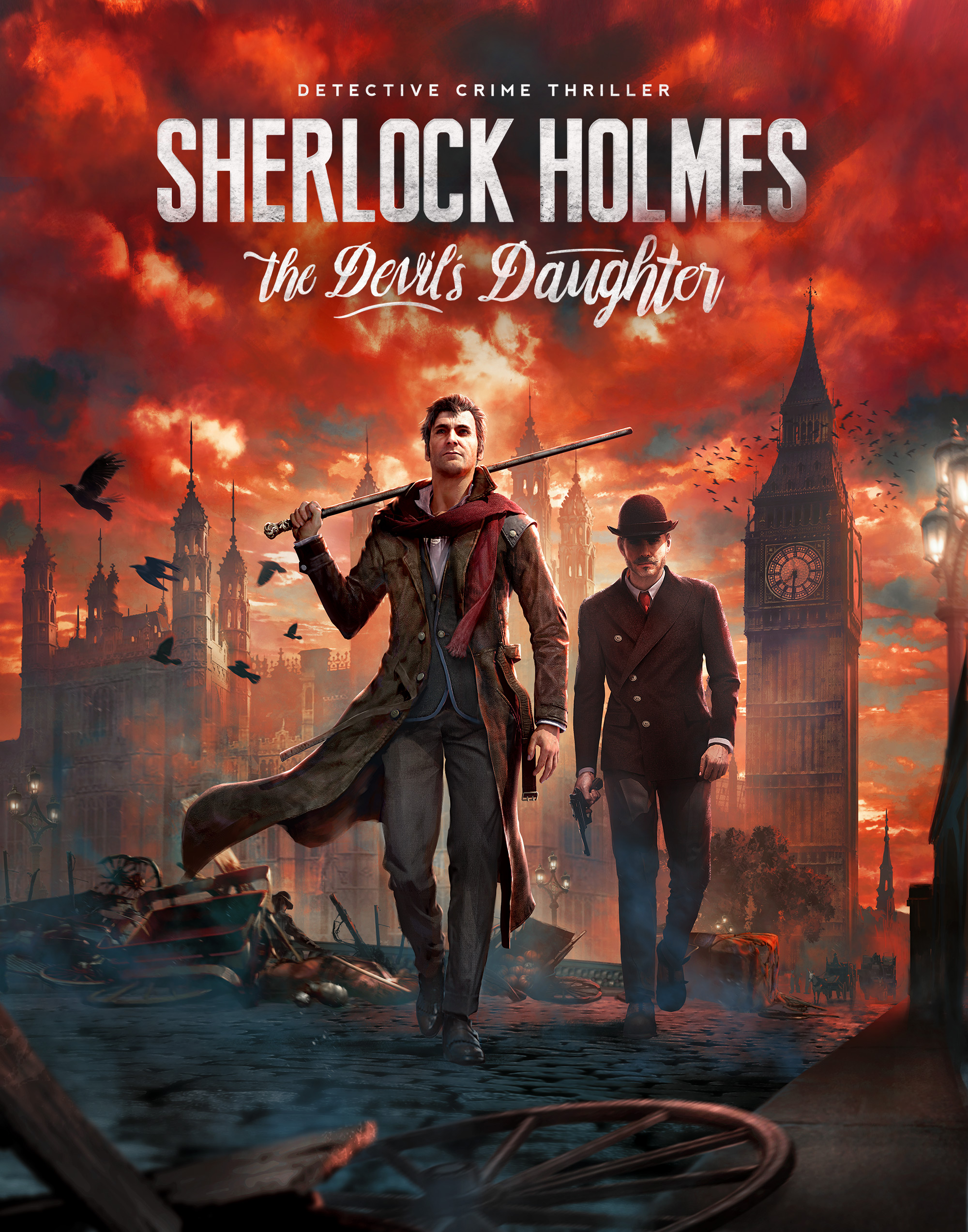 Just finished Sherlock Holmes the Devil's Daughter not too long ago and I know that I probably haven't talked about the previous Sherlock Holmes game in the past so I'll talk about both so you guys don't get confused or anything. This game was developed by FrogWares and I have to say that this one is a bit better than the last one.
The story already starts out epic and action because the first thing you see is a man (whom you find out later that its Sherlock Holmes) running in the middle of the woods from a mysterious figure while being shot at and the only thing that I could think of was…did he get away?
Later, we find out the answer to that question but I'm not going to spoil it for the people who haven't played it yet. In this game, I noticed a lot of different things that the previous didn't do or show. Like the fact that both characters appearances have changed, you can go more rooms in his apartment than last time and that Holmes adopted a daughter!
The last one I was not expecting, even though, the freaking title says the Devil's Daughter right on the cover. I was kind of hoping it was someone else's daughter. When I first saw her I was like does a wife too that I don't know about in this game too? As you guys can guess, Sherlock Holmes in the last game was pretty much single with no love interest in mind. But, then they say adopted and now I'm thinking why in the hell did he adopt a little girl?
People I'm not being mean or anything but if you've watched the movies or played the last game then you guys will know why him being a parent or even trying to start a family would be like mission impossible for this guy. Just like the last game it had about 5 different cases where you gather evidence and decide who the criminal is. I'm usually good at detective games but this one had me doubting myself the entire time I played. Also, this one had a lot more puzzle games than the last one which frustrated me to know end. For most of the puzzles after you die a number of times a skip option would appear which I happily clicked one.
A woman named Alice appears in the game and before I even played the game other players would say that this was probably a potential love interest. But, when I saw her she instantly reminded me of the lady thief in the first Sherlock Holmes movie and I instantly knew she was up to no good. Again not going to spoil what happens between these two but I will tell you that it gets crazy………and creepy!!!
Theirs one thing that I seem to notice throughout the whole game that's been bugging me and I was surprised when I was surfing the net and no one seemed to notice that this was a bit odd to me. If you've played the game, then you've seen the William Halmington photo and my first thought when I saw it was……ISN'T THIS THE SAME GUY PHOTO FROM UNTIL DAWN?! If you've played Until Dawn then you know what I'm talking about when your walking around and you find clues and you find this guy's picture of him slowly being turned into a Wendigo. It bugged me the entire time I was playing and kept looking at the photo over and over and then looked up the Until Dawn photo and they do look similar.
I kept thinking maybe they were made by the same people. There have been lots of times when old stuff from previous games would pop up in newer games from the same company, so I thought that was the case here. The answer I got was ……no. Two different games from two different companies. For people who have played Until Dawn and Sherlock Holmes the Devil's Daughter, I would like for you guys to try to compare to see if it's not just me who thinks this is really weird. Again since no one seemed to have come to this realization at the similarity I was only able to get the photo to Until Dawn once I can find a Sherlock Holmes version of it, I will put it up here, as well.
Overall, this is a pretty good game better than its last one. I loved the storyline and the characters, if you like puzzle/mystery or detective games then you'll like this game a lot. Even for me who doesn't enjoy puzzle games very much, I still very much enjoyed the story.
Thanks for Reading!